Total Impact Capital Estimated by Property Type
Total Impact Capital Estimated by Technology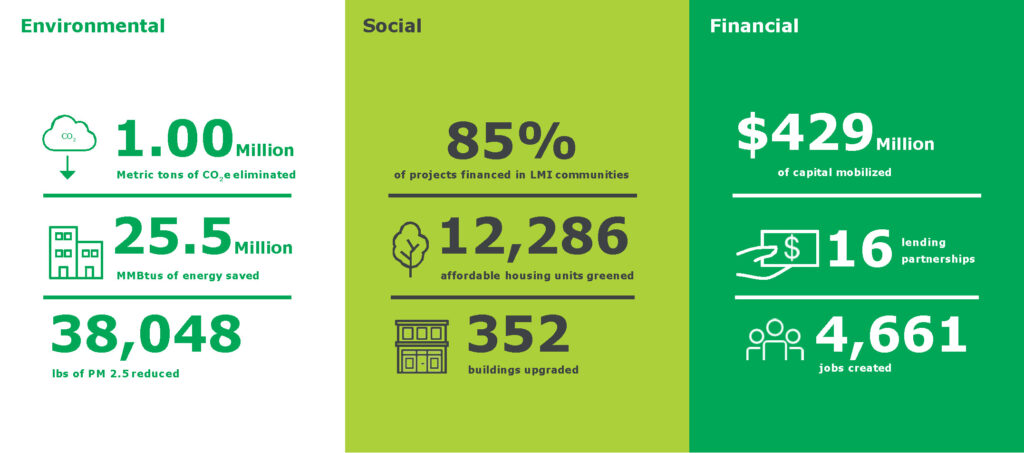 We focus 100% on energy efficiency and clean energy in buildings
We know that climate change poses increasingly urgent health and environmental risks, especially for vulnerable populations. In urban centers, buildings can account for up to 70% of GHG emissions (OneNYC, 2015). There is huge untapped opportunity to reduce GHG emissions by investing in buildings. Private capital must be mobilized at scale to unlock this opportunity and combat climate change.
NYCEEC's loans help buildings invest in energy efficiency and clean energy to save money, improve the environment and build sustainable communities. We partner with financial institutions like Bank of America, Deutsche Bank, Fannie Mae, Enterprise, CDFIs and affordable housing agencies to build green financing markets. Our transformative market-based strategies can overcome barriers and scale investment.
We are a 501(c)(3) mission-driven lender. We are based in NYC and lend throughout the northeast and mid-Atlantic region. Our focus includes high-impact areas like LMI communities, solar and storage, net zero energy buildings, and scalable products like C-PACE and ESAs. We are partnering with New York City to reduce the City's GHG emissions 80% by 2050. Together with lending institutions, policymakers and philanthropies, NYCEEC is working to solve the challenge of climate change.
NYCEEC's mission is to deliver financing solutions and advance markets for energy efficiency and clean energy in buildings.
NYCEEC's vision is energy efficiency and clean energy financing for buildings to achieve scale and be accessible to all.